At the start of the trip, they hitched rides on backcountry roads, but by the second week, the roads had given way to shoulder-wide paths through dense rainforest where no vehicle could pass.
On the last day of their journey, they set out at 5:30 a.m., expecting to arrive at the first village by sundown. But when the sun set, they were only halfway there, so they kept walking.
This was George Beity's first outreach, a meaningful milestone, considering it was an EHC outreach like this one that had saved his life less than one year before. Sometime during the outreach he'd removed both his shoes — one had fallen apart and the other kept getting stuck in the mud. By nightfall all nine members of the team walked barefoot, climbing up and up into the mountains, crossing rivers and coming out the other side with leeches sucking at their ankles. Slung over their shoulders were plastic bags loaded with boxes of gospel messages.
Their eyes kept darting to the surrounding jungle. The government had declared this region a "no go" zone, and villages along the way tried to discourage them from pursuing their journey. They knew they could be ambushed at any moment.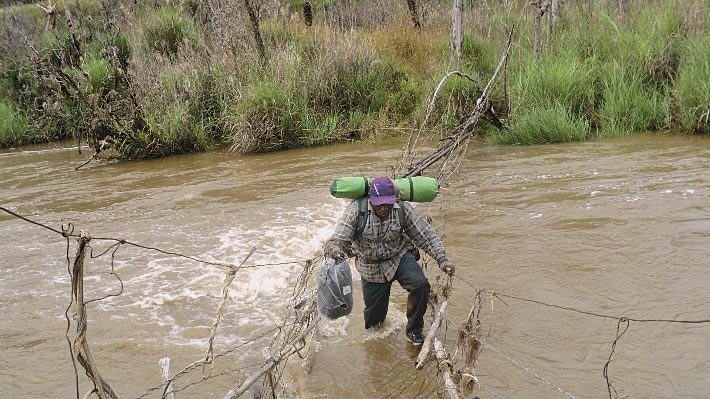 "There were many good reasons to turn back," George recalls. "But something inside me said, no." Like so many EHC workers, George is compelled by the love of Christ and the need of the lost."
These EHC workers had chosen to go to Hela Province because the region had lately become incredibly volatile, and they believed these precious people needed the Gospel of peace and salvation more than anything else.
In 2010, ExxonMobil had chosen Hela as the site of its $18 billion liquefied natural gas project. There were promises that the project would bring in revenue for landowners and improve the quality of life for local people.
Instead, the region fell into disarray. Generations-old disputes, aggravated by social inequality and lack of infrastructure, erupted into tribal warfare. Dozens of people were killed.
The deeper Team Hela ventured into Hela Province, the more danger they risked. They came to another river and found only the remains of a bridge. A warring tribe had burned the wooden platform to discourage people from crossing over to its land, leaving only a tangled network of metal wire. The men stepped out onto the wire, clinging to it even as it sagged into the current.
"When the rain descended, we stopped speaking to each other," George says. "We just locked our minds on our destiny, and that was to reach the village with the Gospel. We all knew where we were heading."
Then, it started to rain.Through the dark of night they proceeded, silent, cold and stumbling. At 6 a.m. they lit a bonfire and lay shivering beside it. Then an old woman stepped into the firelight. A Christian believer, she had heard that Christian workers were coming to her village and had gone out to meet them. She brought sugar cane and sweet potatoes, provisions which were most welcome — the team had run out of food 12 hours before.
"When she found us we were so emotional," George recalls. "I actually hugged her." They prayed and gathered strength for the last leg of their journey. Then they crossed the final river and the woman led them to her village.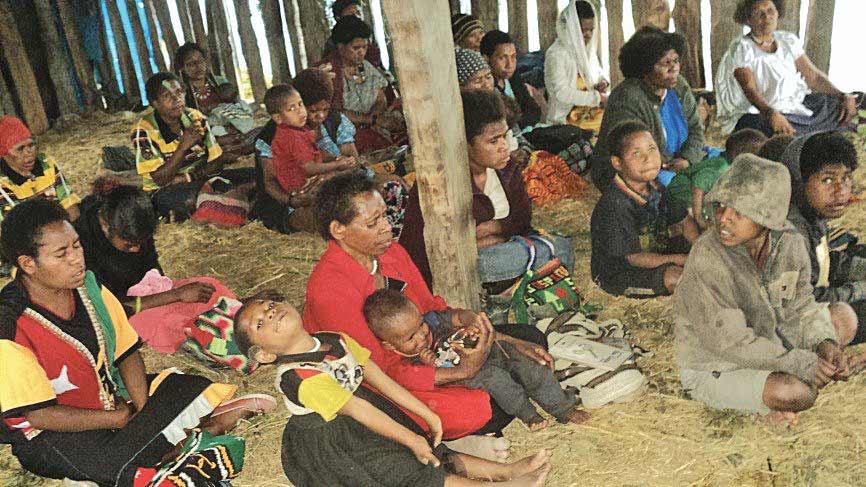 The village was very quiet. All the men had moved into war zones scattered throughout the mountains, leaving their families behind. Women, children and the elderly watched over their homes as best they could, but they were war-weary. When the team saw how distressed the villagers were, they agreed to host a meeting that night. Gathering the entire village, Team Hela shared the message of salvation and peace in Christ with a people who desperately needed to hear about God's kingdom. They listened attentively and many believed.
Tragically, a man working to negotiate peace in the region was killed a few days later. Disidi Yakanda was ambushed and shot by an opposing faction.
Team Hela resolved to honor Disidi's efforts towards peace and made arrangements for a funeral.
"Most times the tribes just dig a hole and throw the bodies in the ground," George says. "Our team built a coffin and gave Disidi a decent burial. That was a really moving scene. He was buried in the name of peace."
For three months, EHC workers shared the gospel message among the Hela people, often splitting up to reach surrounding villages.
But they knew the work would not be done until they entered the war zone. They decided to risk an expedition to the site of one of the most violent factions. There they met with Mr. Ou Kiro, a warrior who was widely feared for having murdered three law enforcement agents. Arriving at his doorstep, the team had no idea what kind of reception he would give them. Holding his gun idly, Mr. Ou Kiro invited them into his makeshift home. He sat with them through the night and listened to what they had to say. They shared the message of the greatest reconciliation and of a peace that goes far beyond tribal differences and disputes. The opportunity to speak of the saving and healing love of Christ to such a violent man was something only God could have brought about.
There are signs the message is taking root. Two months after the EHC workers left Hela, the Papua New Guinea military negotiated the surrender of over 200 illegal firearms. This marks the largest weapons surrender in Hela to date.
Still, much remains to be done and EHC workers are doing all they can to ensure that people on all sides will hear about Jesus.
Since that first visit, Team Hela has made two follow-up trips to the epicenter of this conflict. They help new believers grow in discipleship, teaching them about Christ and the kingdom of God. And they minister to the weary with prayer and encouragement from the Word of God.